Juan Carlos Pacheco and his brother Carlos Stanley begin, as always, by asking the dead man for permission. In the living room of a modest house in eastern El Salvador, Juan Carlos pulls a surgical mask over his face and mouths the plea soundlessly from behind its pleats. Please let me prepare you, so your family can see you one more time before you go.
The room is murky and hot. The concrete walls are bare except for three portraits, each of a different girl in a brightly colored graduation gown. Worn blue curtains cover the windows, and the brothers' shoes squeak on the cement floor. Carlos Stanley is built like a bull, with dark hair, a bulging neck, and thighs that make his jeans look like sausage casings. Juan Carlos is of a similar height but less brawny, with a shaved head, thick black glasses, and a jagged scar that runs diagonally across his face, a childhood souvenir from a vicious dog.
As a thunderstorm cracks and rumbles outside, both men stand for a moment, looking at the body. The light of Carlos Stanley's smartphone, balanced on the open lid of the simple brown coffin, illuminates a bullet-riddled face and black hair. A bulb flickering on the ceiling shines into a gaping red hole in the corpse's chest. Neither Pacheco seems fazed by the smell, which hangs heavy in the air like the humid funk of a meat locker. The brothers listen to the sobbing of relatives waiting beyond the door and the rain beating against the windowpanes.
The Pachecos are undertakers working in El Salvador, a country with one of the world's highest murder rates. Together they've embalmed more than 500 bodies in less than two years. They've sewn together dismembered limbs, reconstructed caved-in heads with inflatable plastic balls, and embalmed cadavers so putrefied that their flesh appeared to be melting. But although the Pachecos are relatively new to the funeral business, they grew up around death. They're from Jucuapa, a small city of about 18,000 people and about 30 coffin factories. Manufacturing the "wooden pajamas," as some locals call them, has become such big business in Jucuapa that families have abandoned their bakeries, butcher shops, and sugar cane fields to enter the funeral industry.
The corpse lying in the living room has become almost normal for people like the Pachecos. Today's body used to be Guillermo Gómez Quintanilla, who was returning home from his girlfriend's house when gang members gunned him down in Jucuapa's Santa Fidelia neighborhood. Police officers, uncertain whether the 22-year-old was connected to a rival gang, are still investigating, according to local news reports.
The brothers prepare Gómez's remains for three hours, stitching up the bullet holes, pumping in formaldehyde, hiding the bruising with makeup, and dressing him in his favorite clothes. They charge a little more than $100 for the service. When they're done, Stanley invites the relatives into the room to begin the 24-hour wake. Gomez's mother is among the first to enter. As she sidles up to the coffin, she looks at her son's face, now eerily revitalized by the makeup, and collapses into Juan Carlos's arms.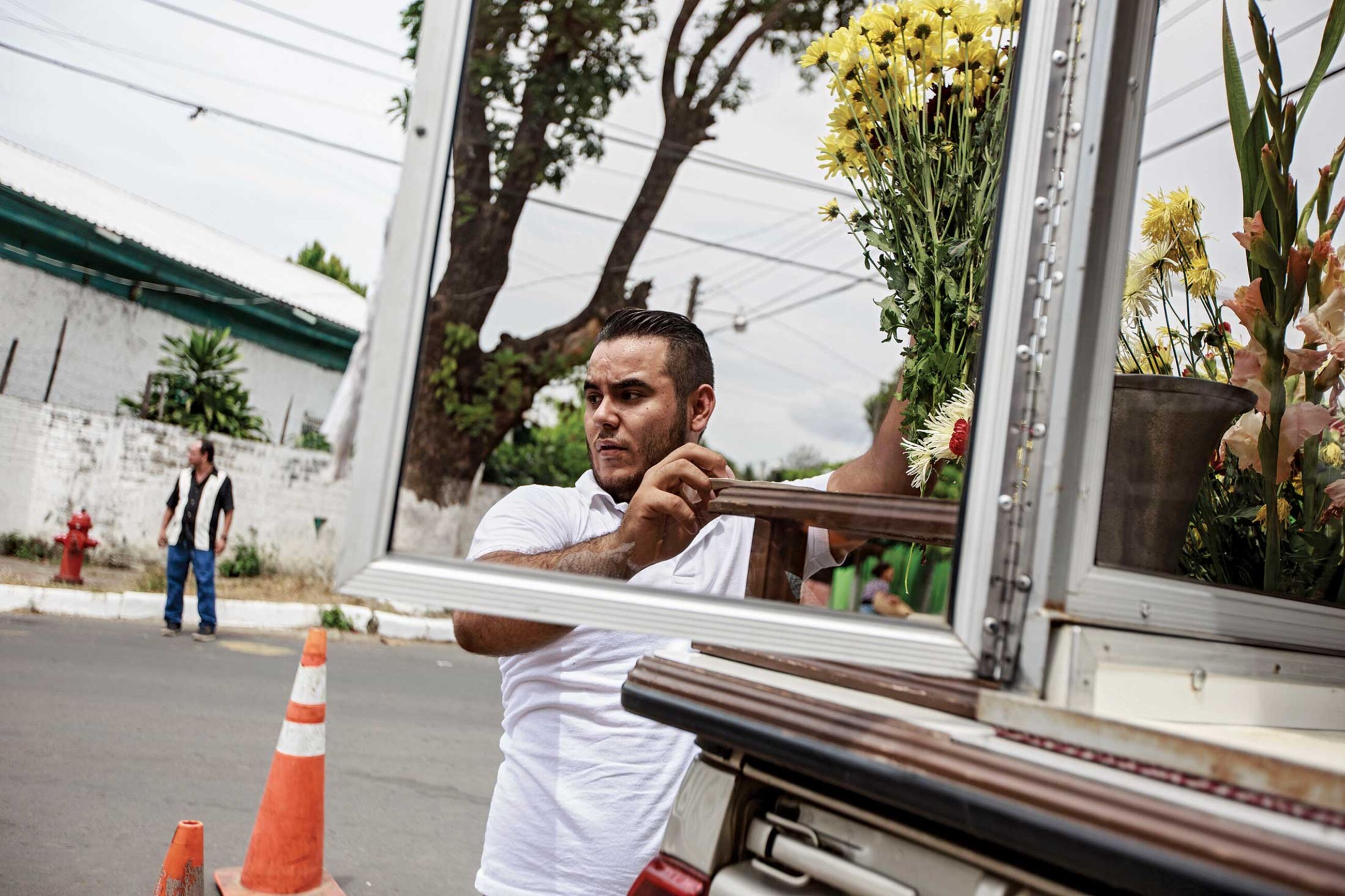 Jucuapa is hemmed in on all sides by jungle and hills. The drive to a local coffin factory on the city's outskirts runs past neat detached houses with tidy gardens, crowded market squares, children playing soccer, and people idling on park benches. "You wouldn't have been able to go where we are about to go," Juan Carlos says. "There were gangs everywhere."
"Gangs everywhere" remains a fact of life throughout El Salvador, a country of 6 million people where 2.5 million live in poverty and the defense ministry estimates that about 500,000 are somehow connected to gang activity. The major rival groups, Barrio 18 and MS-13, have U.S. origins. Refugees founded them to survive in the tougher parts of Los Angeles around the peak of the Salvadoran civil war, when El Salvador's repressive government targeted citizens using paramilitary death squads funded partly with tens of millions of dollars from the Carter and Reagan administrations.
The gangs returned to El Salvador in the early 1990s, around the time the Pacheco brothers were born, after the Clinton administration implemented mass deportations. Within a decade they'd become one of their home country's biggest problems. "When you grow up in a poor area, sometimes you have no other option but to join a gang," says Dennis, a funeral worker and former MS-13 member who asked not to be identified by his last name for fear of reprisals. "It's up to the state to help us find better options."
The Roman Catholic Church, with quiet support from the Salvadoran government, negotiated a truce between the two gangs in 2012, reducing the violence drastically for more than a year, from about 14 murders a day nationwide to between five and six. But as the peace began to break down and voters called for a more aggressive response, the then-new President Salvador Sánchez Cerén declared war on organized crime in 2015. Unsurprisingly, the level of violence spiked. The murder rate hit 18 a day shortly after the president's crackdown began and has settled at about 11 a day, still the world's highest per capita and enough for the World Health Organization to classify it as an epidemic.
Juan Carlos says things have calmed down in recent months following police raids on local MS-13 and Barrio 18 outposts. Murders in Jucuapa have become monthly instead of daily. But it's tough, he says, to know how long that will last.
At the coffin factory—a nest of corrugated iron and wood peeking out through a copse of oak trees a few miles up a rutted track—the work stations inside roughly track the construction process. Near the entrance, carpenters hammer nails and cut with wailing electric saws through planks hewn from the local olive trees. In another corner, men varnishing finished coffins with a thick black sealant resemble coal miners, their faces coated in the varnish and their eyes watery and red with irritation. In a separate hut across an open-air courtyard at the back of the workshop, the last set of workers uses a spray gun to paint the coffins, the way mechanics repaint a car. "We have to get them nice and shiny," one says. "That's what customers look for." Like their competitors, the factory's seven workers make money by the coffin, Juan Carlos says. He estimates that a good carpenter there makes $250 a week; a painter, about $150.
In a hammock at the back of the space, Jorge Cárdenas, the owner, appears immune to the workshop's heat, noise, and fumes. Unlike the Pachecos, Cárdenas, middle-aged and rotund, has worked in the funeral business all his life and started his own shop in 2012. His team produces 20 to 30 coffins a week, he says proudly, and sells them to funeral homes all over the country. The top seller is the $90 económico, a no-frills brown model usually meant for the victims of violent crime. "Those that get killed in gang shootouts are normally young men with little resources," Cárdenas says. "When it comes time for the funeral, it's normally the town hall that pays for the coffin, and the state always chooses the cheapest option." His most luxurious model, the colombiana, is larger, more elaborately decorated, and, he says, 20 times as profitable.
Cárdenas, like several other coffin factory owners around Jucuapa, acknowledges discomfort with profiting from his country's biggest problem, but says it's the only thing keeping him fed. "If all of a sudden the gangs were to stop killing, our business would be very affected," he says, and besides, 16 competitors ensure he's making a profit of only $10 to $20 per económico. "We're not rich here."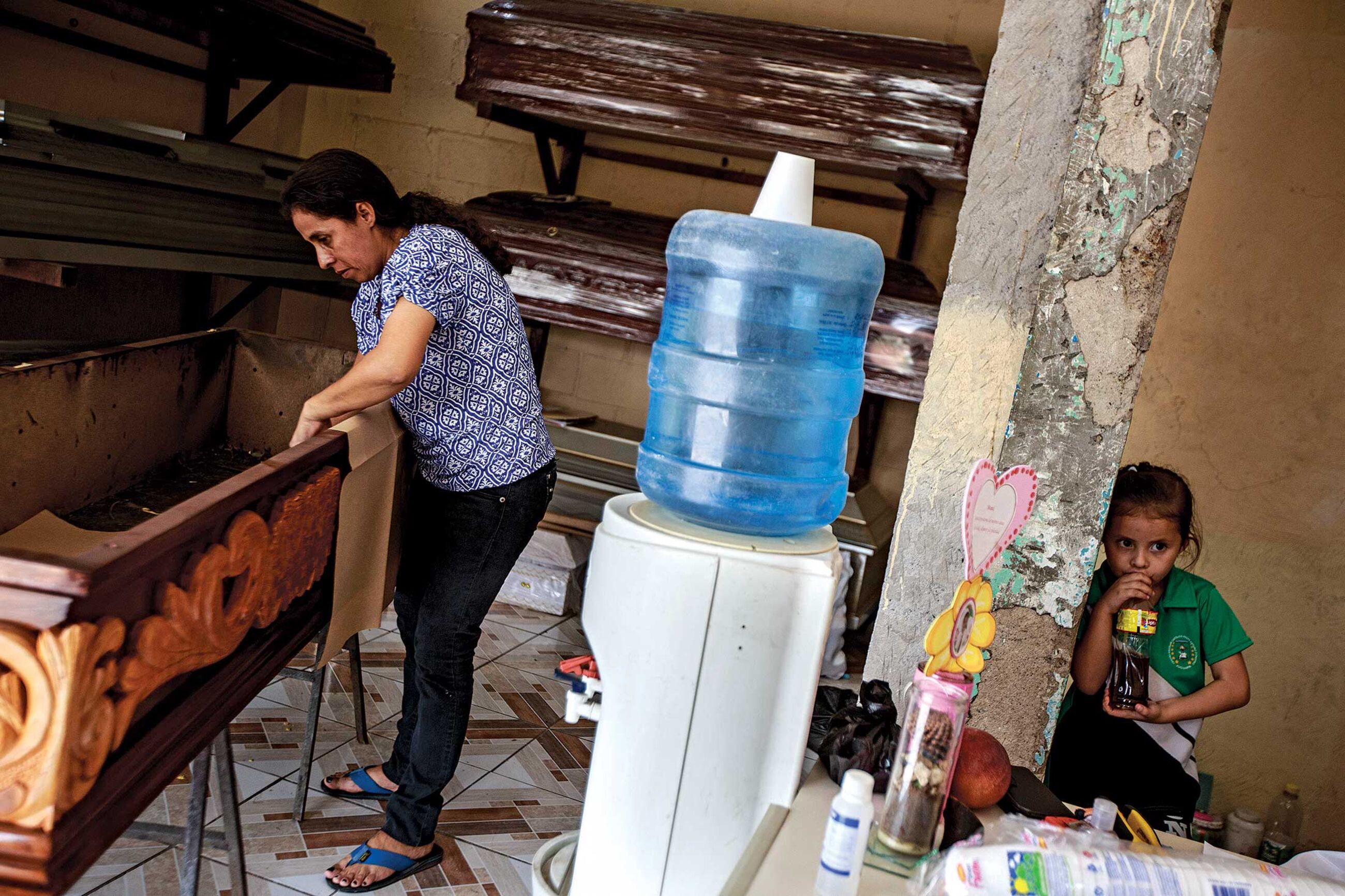 Few people are rich in El Salvador, where the median annual income hovers around $3,600. The country, Central America's smallest in terms of land mass, relies largely on coffee exports, tourism, and remittances sent home by workers who've gone abroad. It's easy for things to get desperate fast, as they did during the 2010 downturn in the Jucuapa economy, which led to the establishment of what's now called Funerales Pacheco. There the brothers handle the needs of the deceased and their relatives for $350 to $3,200. "The most basic service might include the wake, an affordable coffin, and the embalming," Juan Carlos says. "The top-of-the-range service, well, that includes everything—transport, food, water, video recording, photography, and, of course, a better-quality coffin." Monthly sales typically run from $2,000 to $4,000.
The day after the trip to Cárdenas's factory, coffins in all sizes and finishes surround Juan Carlos at a white desk cluttered with papers and bottles of water. On the other side of the desk, two people slump in resignation on plastic chairs. They just picked out a plain brown coffin for their son.
As Juan Carlos talks the parents through their options, a door away, Carlos Stanley rubs the deceased's gray arms with disinfectant. The 20-year-old died of alcohol poisoning but was linked to gangs, too, Carlos Stanley says.
No matter how many bodies he's embalmed, Carlos Stanley says, he often struggles to believe that the lump of skin and cartilage he works on had, in fact, lived; that he or she had made people laugh, had woken up in the morning and eaten breakfast, vomited, or had sex. Staring down at the bloated, ashen corpse, he sees life as so improbable sometimes. Then again, his own path seems that way, too. He pauses his work with the scalpel and nods toward a large, dusty oven. "That's what we used to do," he says.
Before the bodies, the Pachecos traded in bread. Their father, Carlos Sr., had run a bakery on the same site for decades. When the family struggled to make ends meet in 2010, as gangs extorted local businesses for protection money, it was the middle son, Carlos Humberto, who suggested starting a coffin factory. With the forests nearby there'd be no shortage of wood, and the closure of a massive factory called Funeraria Flores a few years earlier had left the town full of expert laborers who could use the work. And, of course, there was the steady supply of murder victims, including four of Carlos Sr.'s own bakery employees. The Pachecos closed the bakery and started knocking out coffins.
It wasn't long before everyone else in Jucuapa had the same idea. "We all saw an opportunity," says Julio Cesar, a Funeraria Flores veteran who started his own workshop shortly after the Pachecos did. "It was the only thing that those of us who had worked at the factory knew how to do."
The competition drove down prices and reduced the Pachecos' profit margins. There were better resources in the town, and by 2016 the Pacheco family was struggling to compete, its finances in trouble again. Juan Carlos, who by then had become an emergency room doctor in the capital of San Salvador, persuaded his brothers and father to turn the coffin factory into a full-on funeral parlor. "It was the obvious decision to make," Carlos Stanley says in the embalming room, making an incision in the 20-year-old's left thigh with a scalpel. "We could make greater profit margins on service than we ever could producing and selling coffins." And because the family had the best coffin suppliers in the country to pick from, the brothers say, it wasn't hard to find quality.
At the beginning of 2018, Juan Carlos, now at the head of the business, began pushing the newly formed parlor in directions that led to a schism in the family. He and Carlos Stanley intend to turn the funeral home into eastern El Salvador's primary embalming facility. A national law requires all such procedures to take place in a certified laboratory, and the two brothers—who, like their peers, don't yet abide by that law—are betting on stricter government enforcement in the future. They expect to spend $15,000 to $20,000 over the next few years to build a lab that's up to code. "When that time comes, people will then have to use our funeral parlor," Juan Carlos says. He's also planning an adjoining chapel where typically Catholic mourners will be able to livestream their vigils to relatives abroad.
Around the same time as this expansion effort began, Carlos Sr. and Carlos Humberto moved to Usulután, a city of about 70,000 and a 40-minute drive south, to set up another funeral parlor. This spared them the capital investment that Juan Carlos and Carlos Stanley have taken on, but it placed them in one of the region's most dangerous spots. The new shop, also called Funerales Pacheco, sits at the side of a dusty road at the edge of town. During a visit, Carlos Humberto says about two-thirds of his business results from violent crime and he and his father use police, hospital, and mortuary contacts to reach mourners before rivals can. The practice has come to be called muertear ("to death"), but the English expression would be "ambulance chasing." "Death here is so prevalent, you have to find some way to take advantage of it," says Carlos Humberto, who won't say whether he and his father pay their tipsters.
Carlos Humberto prides himself on being the first on the scene, even when his trips to pitch funeral services to victims' families bring him into contact with gang members. "They have stopped me, and they have threatened me many times," he says. "But it's part of the job, and I'm used to it by now."
His younger brother should get that last line inscribed on his tombstone. Until 2010, Carlos Stanley, like the rest of the family, knew little about the body's inner workings. But in the embalming room, a dank corridor behind the coffin showroom, he looks as if he's never done anything else. Once he finds the alcohol-poisoned boy's femoral artery, he attaches a needle connected to a thin transparent tube, creating a circuit to pump yellow formaldehyde into the body and drain the blood into a Coke bottle by his feet. Through the sting of the formaldehyde, I can smell what Carlos Stanley's mother, Rosa Elena Sanchéz Bonilla, is cooking in the kitchen. Somewhere outside, ominous classical music plays over a tinny speaker. A woman's voice follows the sinister requiem.
"They're announcing the boy's burial," Juan Carlos says, poking his head in. "You pay the shop $10, and they make an announcement for you."
On my last day with the Pachecos, Juan Carlos and I join about 200 mourners at a funeral in Jucuapa's crowded municipal cemetery, a mishmash of decaying headstones and tombs. The humid air smells of incense. During the service, people clog the paths, lean on the graves, and weep into their handkerchiefs. It's only the second time I see Juan Carlos completely silent. As the gravediggers lower a coffin into the ground, his eyes well up. The funeral, which his team has organized, is for his lifelong friend Cristian Perdomo, who died of kidney failure.
While Carlos Stanley directs the gravediggers a few yards away, Juan Carlos stares blankly at the gravestones in front of him. When he worked in the hospital, he says, he'd often sat for hours listening to his patients' problems. Even in an emergency ward in a country where murder is omnipresent, the undercurrent of almost every complaint is a paralyzing fear of mortality.
In Jucuapa the coffin trade has become a backbone of the local economy, offering steady employment to hundreds of people. At both branches of the Pacheco family business, sales are up. Juan Carlos, quick to acknowledge the irony, says he hopes things will change. "Maybe in the future, Jucuapa will be known for other things," he says. For now, though, he has no plans to become a baker again.
Read original article here: https://www.bloomberg.com/news/features/2019-03-06/this-city-of-coffins-fills-the-needs-of-families-of-victims-of-ms-13-and-barrio-18